Polar Bear Photography Tours in Northern Canada

Join Canadian Guide and Wildlife Photographer Michael Bertelsen for an incredible opportunity to photograph Polar Bears and other Arctic wildlife at ground level.
6091 Sunrise Polar Bear
play
This polar bear photography workshop is specifically designed for the serious wildlife photographer looking for high quality images of polar bears, red, arctic, and cross fox, willow and rock ptarmigan, gyrfalcons and the northern lights. Churchill is the world's premiere location to experience migrating polar bears. You will not be in a Tundra buggy, taking pictures through a window 15 feet off the ground. On this trip you will be on the ground, eye level with the bears. Michael Bertelsen is a trained and very experienced Manitoba licensed guide with WMA permits. Michael has worked with
National Geographic
as well as
BBC Films
. He will offer you the very finest possibilities to capture stunning images of the animals that call Northern Canada home.
Quality not Quantity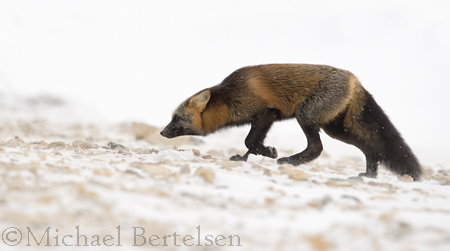 Small group of 8 photographers shooting on the ground, thus allowing: The ability to move around and choose a better background or angle. Overall feeling of the workshop is more intimate. Feel more in tune with the surroundings and its species.

Equipment Recommendations
A minimum 400mm lens is required. Wide angle lens for the Aurora and landscapes. Your most used focal distance will be in the range of 300 to 500mm. If possible bring 2 camera bodies, sturdy tripod or monopod.

Clothing Recommendations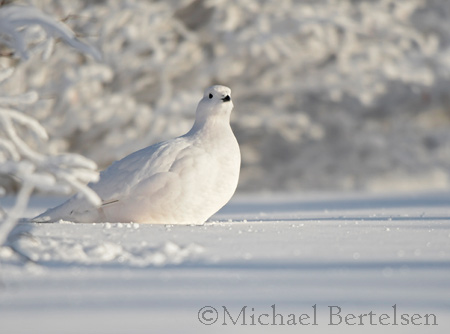 Temperatures range from -1C to -20C during this time. Insulated boots, warm winter coat, insulated pants to wear over your inside pants. large warm mitts, thin gloves you can use camera buttons with, warm hat and wool socks.

Other Considerations
Low level of fitness is required. Very short walks in snow depth of less than a foot.
Bathroom breaks are available through out the day.

Itinerary for 6 day trip
Day 1
Early morning fly in to Churchill from Winnipeg, Manitoba. Michael will pick you up at the airport and take you directly to the lodge. One hour orientation and some winter photography tips.
Lunch, then out in search of polar bears for the afternoon. That evening a dinner is planned with a short slideshow.
Day 2,3,4,5 and 6
Early breakfast then out in search for polar bears, possibly arctic fox, cross fox, red fox, willow and rock ptarmigan. All day landscape photography if light and clouds offer the opportunity. Break for lunch then we head back out for the afternoon and evening shoot .
Dinner together and review the day. Northern lights are always a possibility when the sky is clear.
Day 7
8:30 am to the Churchill airport flying back to Winnipeg.
Accommodations
Our rooms offer comfortable beds & en suite bathrooms with private showers. Internet is available in each room.

Price Includes: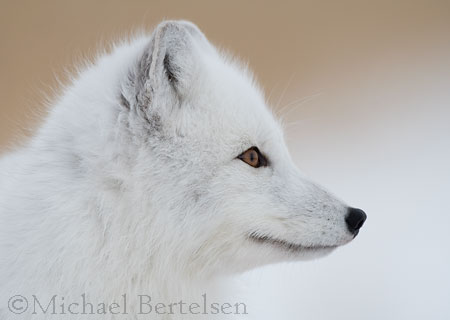 5 Day trip - 5 nights accommodations, 4 1/2 days of photography.
6 Day trip - 6 nights accommodations, 5 1/2 days of photography.
All breakfasts.
All WMA permits and licenses.
All transportation once arriving in Churchill.
Personalized instruction offered at all times.

Not included:
Alcoholic drinks, non-meal time drinks or snacks.
Lunch and Dinner.
All flights to and from Churchill.
Booking Terms
5 Day Trip

Total Cost $4900.00 + 13% HST cdn funds or $3888.00 usd + 13% HST (exchange rates could vary)
$1,900.00 cdn + 13% hst non-refundable deposit required at time of booking. Remaining amount of $3,000.00 cdn + 13% hst payment due 90 days prior to departure date.
5 Day single occupancy available for an additional $1000.00 +13% HST


6 Day Trip

Total Cost $5900.00 + 13% HST cdn funds or $4682.00 usd + 13% HST (exchanges rate could vary)
$2,500.00 cdn + 13% hst non-refundable deposit required at time of booking. Remaining amount of $3,400.00 cdn + 13% hst payment due 90 days prior to departure date.
6 Day single occupancy available for an additional $1,250.00 + 13% HST
Payment, Registration and Refund Policy A non-refundable deposit is required to reserve your spot. Once the deposit is received your spot on the trip will be confirmed and an email that includes a detailed itinerary. Balance in full is due 3 months before the tour start date. A reminder will be sent to you via email, but it is the sole responsibility of the participant to remember this due date. If the balance is not received in time, we will attempt to fill your spot from the waiting list. If the spot is filled, you will lose only the deposit.
Fees are based upon double occupancy. Single rooms can be arranged at an additional cost if they are available. We do our best to pair participants up with a roommate, but if a roommate cannot be found, the single occupant will be charged for a single supplement. Once you book with Michael, payments will be made through P&G Travel 9421 Jane Street, Maple, ON L6A 4H8 TICO.ca #50015977. Represented by Jenny Cressman 647-216-1791

Travel Insurance
Whenever traveling with Wild Outdoors Photography travel insurance and health insurance is highly recommended.
Liability
Wild Outdoors Photography does not accept responsibility for any losses or additional expenses due to delay or changes in air or other services, sickness, weather, strike or other causes. The tour participants shall bear all such losses and expenses. Wild Outdoors Photography will take all reasonable steps to ensure that services provided are of high standard. Wild Outdoors Photography will not accept liability for physical injury, loss, damage or expense resulting from
circumstances beyond our control. By agreeing to participate in a Wild Outdoors Photography workshop, each participant agrees to release, indemnify and hold harmless Wild Outdoors Photography, its agents, employees, shareholders, directors, attorneys, and contractors as more completely set forth in the liability waiver that will be provided. The waiver must be signed and received by Wild Outdoors Photography prior to participation.
Contact Michael if you have further questions or to check availability and to request a booking.
Testimonials
Michael, Thank you so much for all your assistance with the shoot and for being so accommodating with the many questions we fired your way. Katy and Tom both had a great shoot with you and they really valued your knowledge and expertise. Looking forward to working with you again, Susan S,

BBC FILMS



I am a first time participant in one of Michael's workshops and boy did I luck out and choose the right one. First of all, I am veteran of photography workshops and this was by far one of the best for many reasons which I will summarize. We had a small group of wonderful people who got along extremely well (large groups are hard to shoot with). The transportation and lodging was prearranged including airport pickup personally. He arranged our wonderful meals and he was our driver, guide and scout and entertainer all in one. Michael is extremely affable and easy to talk to and ask questions and he pointed out tips in technique when necessary. He always ensured we got first crack at the shots before he even pulled out his camera. Foremost, he is an honest and ethical nature photographer. We had such a great time together and had so many memorable photo ops that I am going to sign up for more of his workshops. Thank you Michael! Karl C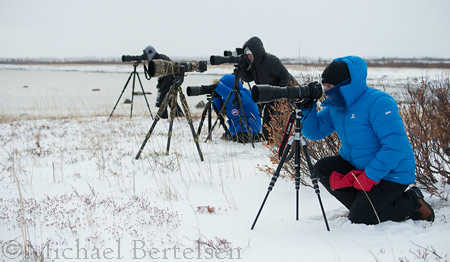 Book Your Photo Adventure Now