Loon Photography Tours & Workshops
Nature Photographer, Guide and Instructor Michael Bertelsen is proud to welcome you to North America's Leading Loon Photography Tours and Workshops.

Driving 2.5 hours north of Toronto, Ontario places you in the highest population of nesting common loons in the world. Sparkling northern lakes lined with marshes, black spruce and giant white pines makes for a very pleasant day photographing loons and their chicks.
What makes this trip so special
The very stable one of a kind boat is specifically laid out for Loon photography. Very comfortable swivel seats are designed to drop down to allow extreme low level photography; just a mere 16 inches from lens to the surface of the water. The boat has a flat floor as well as an outboard motor that will get us to our destination quickly. When we arrive a silent electric motor gets us in close to the loons & offers you up close photo opportunities.
Michael monitors 11 pairs of nesting loons on 9 different lakes. This has made it possible to offer photographers a 90% loon chick success rate since 1997. Offering different lakes gives the photographer a selection of water colors and reflections as well as other wildlife such as moose, black bear, beaver, muskrat and a selection of marsh birds like blue herons, kingbirds, bitterns, kingfishers to name a few.
Your certified Captain, guide and instructor is on the boat with you, offering helpful tips, answering questions and explaining what to expect next. As a result, you have the very best chances to capture some of the finest loon images.

Loons on Golden Water
play
Itinerary

On the water for early morning light.
Typically we shoot until mid morning or until the light is too harsh.
Midday is your time. Download the morning's images or head off on your own to photograph moose or black bears feeding on Algonquin's blueberries. There are many boreal bird species found in Algonquin Park, grey jays, black-backed woodpeckers and spruce grouse.
First day we meet for an early dinner to discuss any additional questions, learning objectives, or concerns. A quick slideshow and we are back out on the water for evening loons.

You Decide

Put together as many days as you would like (depending on availability). Choose 2 to 6 days photographing common loons and their chicks on beautiful northern Ontario lakes.
Scheduled 2 or 3 Day Loon & Chick Photography Workshops/Tours
Maximum 4 photographers
Available Dates

3 Day Loons & Chicks

$1,425.00

July 01-03, 2024

Full
3 Day Loons & Chicks

$1,425.00

July 04-06, 2024

Full
3- Day Loons & Chicks

$1,425.00

July 07-09, 2024

Full
3 Day Loons & Chicks

$1,425.00

July 10-12, 2024

Full
2- Day Loons & Chicks

$950.00

July 13-14, 2024

2 spaces left
2 Day Loons & Chicks

$950.00

July 15-16, 2024

Full
Price Includes:
Light breakfast of yogurt, fruit juice , water and granola bars.
Personalized instruction offered at all times.
Chilled bottled water always on hand.
Not included:

Transportation including flights to and from the hotel.
All Accommodations, but will gladly recommend something.
All meals except breakfast
13% HST Ontario taxes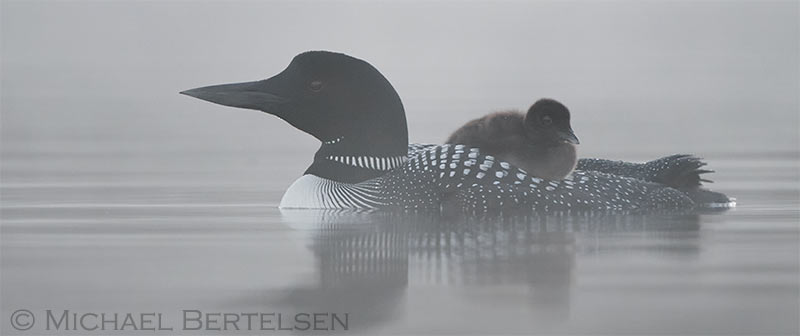 Payment, Registration and Refund Policy

A non-refundable 50% deposit plus 13% Ontario sales tax is required to reserve your spot. Once the deposit is received your spot on the trip will be confirmed with an email that includes a detailed itinerary with hotel information. Balance in full is due 2 months prior to the workshop start date. A reminder will be sent to you via email, but it is the sole responsibility of the participant to remember this due date. If the balance is not received in time, we will attempt to fill your spot from the waiting list. If the spot is filled, you will lose only the deposit.
Travel Insurance
Whenever traveling with Wild Outdoors Photography travel insurance and health insurance is highly recommended.
Liability
Wild Outdoors Photography does not accept responsibility for any losses or additional expenses due to delay or changes in air or other services, sickness, weather, strike or other causes. The tour participants shall bear all such losses and expenses. Wild Outdoors Photography will take all reasonable steps to ensure that services provided are of high standard. Wild Outdoors Photography will not accept liability for physical injury, loss, damage or expense resulting from
circumstances beyond our control. By agreeing to participate in a Wild Outdoors Photography workshop, each participant agrees to release, indemnify and hold harmless Wild Outdoors Photography, its agents, employees, shareholders, directors, attorneys, and contractors as more completely set forth in the liability waiver that will be provided. The waiver must be signed and received by Wild Outdoors Photography prior to participation.
Testimonials
Thanks Michael. Once again, you have set the stage for your students success. I truly appreciate the skill and knowledge, time, craftsmanship and passion that you bring to your photography workshops. You know just where to take us and how to position us to get the best light and shots possible, even in challenging circumstances. You've done it again! Marsha L

Mike, Just wanted to say thanks for our Loon Tour last week. Both Michele & I got some great shots. You're a real expert at knowing these Loons & how to get us superb photo ops, without stressing them!! I'll be back for sure, Sam S

Michael, I want to express my thanks for your recent Loon Tour (July 12/13) that I had the pleasure of attending. The efforts you made to provide your guests with outstanding opportunities exceeded my expectations. Your knowledge of the subject matter and how best to approach a setting from a photographic standpoint ensured that everyone came away with fantastic shots and memories. Any level of photographer could attend one of your tours and come away completely satisfied with the experience you offer.I am already thinking of attending future sessions in the years to come. Richard P

Hi Michael, Andy, Rosemarie and I all wish to convey our special thanks to you for providing such a fantastic workshop for us! Comments from the group as follows:Thanks for being so helpful and professional while we were taking our photos eg. Loon approaching from the left etc., watch as she is bringing a big fish for the baby. This is most helpful when one is looking through the lens.We all had fun and loved your planned itinerary as well as providing such an excellent finale by taking us down the river which was beaming with beautiful wildlife creatures! Rosemarie just commented that it must have been really good as we all want to go back! Please keep us posted and enjoy the rest of summer and good luck with your house building! Regards from Joan, Rosemarie & Andy
» Join our mailing list for great tips as well as new trips «