Moose Photography Tours & Workshops

Join wildlife photographer and certified Captain, Michael Bertelsen as he ventures into the heart of Algonquin Park's world renowned moose country. Experience moose photography at its best aboard a comfortable very stable boat with a flat floor and a shallow draft, perfect for photography. There is a removable top to protect you from the rain. Once at our destination, the electric motor will allow us to slip in quietly.

1217 Moose Family
play
Capturing Sharp Images
The very stable wide bottomed boat with your monopod or tripod set up makes getting razor sharp images an easy task. Quick adjustments to camera direction is made using comfortable swivel seats mounted down the centerline of the boat to prevent movement.
Quality Not Quantity
Workshops are limited to a maximum of 4 people. This ensures that everyone's photographic needs will be addressed, giving the highest quality experience possible.
Clothing Recommendations
It is best to dress in layered clothing (temperatures range from a warm 20C to a chilly -3C). Rain coat and pants is a must have as is comfortable shoes, long pants, and warm jacket or sweater.

Where To Stay
We stay very close to the park. More information will be provided as to what hotel to book once a deposit has been received.

Other Considerations
A very low level of fitness is required. You will need to step in and out of the boat for lunch and bathroom breaks. Insects are minimal because we are away from land and out on the water.

Itinerary
Meeting time and location in Algonquin Park to be determined. A two day vehicle permit for the park is required. On location for the early morning light. Bathroom breaks available throughout the day. Light breakfast served aboard the boat around 8 am. Around 11:30am a picnic style lunch is served with chilled water. Then back out for the afternoon.
Testimonials
Our trip to Algonquin Park was all about moose photography and it was truly awesome! The combination of Michael Bertelsen and Algonquin Park is unbeatable... Michael's expertise and non-invasive approach to wildlife gets you in close to the moose without impacting their normal behavior, perfect for getting those special images. The perspective from the boat is unique and provides a background of the beautiful shoreline and trees as the moose indulge endlessly on lily pads. We are already planning our next trip. Thanks Michael for a great adventure, Larry K

Michael, Overdue in thanking you for your wonderful Loon\Moose photo workshop last month. As you know I do a fair bit of wildlife & landscape photography around North America, including attending a number of well known workshops. My experience with you in Algonquin was world class. Not only because of the scenery & wildlife but largely because of your knowledge & enthusiasm. I am already making plans for another trip with you. Thanks, Jack P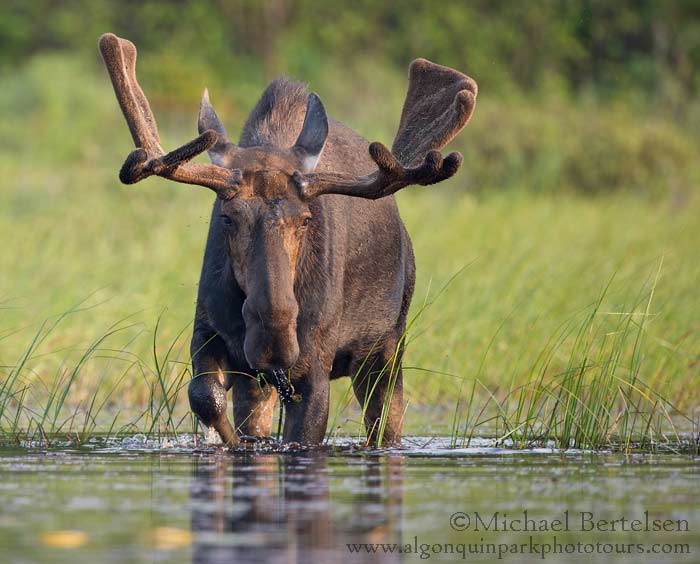 Your choice
Put together as many days as you would like. Choose 2, 4, or 6 days photographing moose in their natural habitat. Private trips are also available. Openings are limited and fill quickly.

Scheduled 2, 4 or 6 Day Moose Photography Workshops/Tours
Maximum 4 photographers
Available Dates

Moose in the Marsh

660.00

June 17-18, 2019

Full
Moose in the Marsh

660.00

June 19-20, 2019

Full
Moose in the Marsh

660.00

June 21-22, 2019

Full
Moose in the Marsh

660.00

June 25-26, 2019

Full
Price Includes:
Personalized instruction due to very small groups
Light breakfast of yogurt, fruit juice , chilled water and granola bar.
Picnic style lunch includes, cold cuts, buns, potato salad, cookies and chilled water.
Price Does Not Include:
Accommodations and Dinner
2 Day Vehicle Park Permit

Accommodations:
More information to be provided about where to stay upon signing up for the trip.























Deposit & Registration for Tours & Workshops
A nonrefundable 50% deposit plus 13% HST is required to reserve your spot.
Please contact Michael if you have any questions or to check availability and to request a booking.
We accept e-Transfer or check. If sending a check please make it payable to Wild Outdoors Limited and send it to PO Box 5335, Huntsville, ON, Canada, P1H 2K7.


*Join my mailing list and receive information on the newest trips*

» click here for more information or to schedule a tour «