Moose Photography Tours & Workshops

Join wildlife photographer and certified Captain, Michael Bertelsen as he ventures into the heart of Algonquin Park's world renowned moose country. Experience moose photography at its best aboard a comfortable very stable boat with a flat floor and a shallow draft, perfect for photography. Once on our destination, your guide will use oars, push pole or electric motor enabling us to slip in quietly.
The Crossing
play
Capturing Sharp Images
The very stable wide bottomed boat with your monopod or tripod set up makes getting razor sharp images an easy task. Quick adjustments to camera direction is made using comfortable swivel seats mounted down the centerline of the boat to prevent movement.

Quality Not Quantity

Workshops are limited to a maximum of 4 people. This ensures that everyone's photographic needs will be addressed, giving the highest quality experience possible.

Clothing Recommendations
It is best to dress in layered clothing (temperatures range from a warm 20C to a chilly -3C). Rain coat and pants is a must have as is comfortable shoes, long pants, and warm jacket or sweater.

Where To Stay
We stay very close to the park. More information will be provided as to what hotel to book once a deposit has been received.

Other Considerations
A very low level of fitness is required. You will need to step in and out of the boat for lunch and bathroom breaks. Insects are minimal because we are away from land and out on the water.


Itinerary
Meeting time and location in Algonquin Park to be determined. A two day vehicle permit for the park is required. On location for the early morning light. Bathroom breaks available throughout the day. Light breakfast served aboard the boat around 8 am. Around 11:30am a picnic style lunch is served with chilled water. Then back out for the afternoon.

Price Includes:
Light breakfast of yogurt, fruit juice , chilled water and granola bar.
Picnic style lunch includes, cold cuts, buns, potato salad, cookies and chilled water.

Price Does Not Include:

Accommodations
Transportation to and from meeting location
2 Day Vehicle Park Permit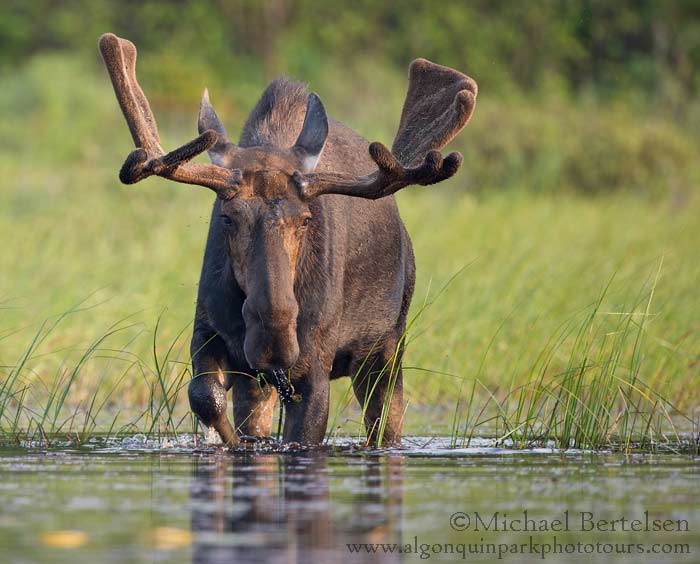 Your Choice
Put together as many days as you would like. Choose 2, 4, or 6 days photographing moose in beautiful surroundings.

Scheduled 2, 3 or 6 Day Moose Photography Workshops/Tours
Maximum 4 photographers
Available Dates

3 Day Moose in the Marsh

$1,395.00

June 11-13, 2023

Full
3 Day Moose in the Marsh

$1,395.00

June 14-16, 2023

Full
3 Day Moose in the Marsh

$1,395.00

June 17-19, 2023

Full
3 Day Moose in the Marsh

$1,395.00

June 20-22, 2023

Full
Payment, Registration and Refund Policy
A non-refundable 50% deposit plus 13% Ontario tax is required to reserve your spot. Once the deposit is received your spot on the trip will be confirmed with an email that includes a detailed itinerary with hotel information. Balance in full is due 2 months before the tour start date. A reminder will be sent to you via email, but it is the sole responsibility of the participant to remember this due date. If the balance is not received in time, we will attempt to fill your spot from the waiting list. If the spot is filled, you will lose only the deposit.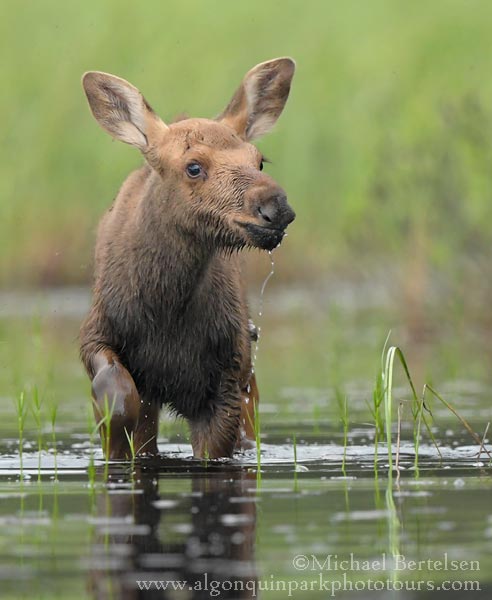 Travel Insurance
Whenever traveling with Wild Outdoors Photography travel insurance and health insurance is highly recommended.
Liability
Wild Outdoors Photography does not accept responsibility for any losses or additional expenses due to delay or changes in air or other services, sickness, weather, strike or other causes. The tour participants shall bear all such losses and expenses. Wild Outdoors Photography will take all reasonable steps to ensure that services provided are of high standard. Wild Outdoors Photography will not accept liability for physical injury, loss, damage or expense resulting from circumstances beyond our control. By agreeing to participate in a Wild Outdoors Photography workshop, each participant agrees to release, indemnify and hold harmless Wild Outdoors Photography, its agents, employees, shareholders, directors, attorneys, and contractors as more completely set forth in the liability waiver that will be provided. The waiver must be signed and received by Wild Outdoors Photography prior to participation.

Testimonials
Our trip to Algonquin Park was all about moose photography and it was truly awesome! The combination of Michael Bertelsen and Algonquin Park is unbeatable... Michael's expertise and non-invasive approach to wildlife gets you in close to the moose without impacting their normal behavior, perfect for getting those special images. The perspective from the boat is unique and provides a background of the beautiful shoreline and trees as the moose indulge endlessly on lily pads. We are already planning our next trip. Thanks Michael for a great adventure, Larry K

Michael, Overdue in thanking you for your wonderful Loon\Moose photo workshop last month. As you know I do a fair bit of wildlife & landscape photography around North America, including attending a number of well known workshops. My experience with you in Algonquin was world class. Not only because of the scenery & wildlife but largely because of your knowledge & enthusiasm. I am already making plans for another trip with you. Thanks, Jack P
Contact Michael if you have further questions or to check availability and to request a booking.
*Join my mailing list and receive information on the newest trips*