Wild Outdoors Photography Tours and Workshops is a leading Canadian Photography Tour Company run by Professional Wildlife Photographer, Guide and Instructor Michael Bertelsen.
Michael offers world class nature and wildlife photography tours and workshops through out Canada and around the globe. If you would like instruction, Michael tailors to meet the needs of each photographer, regardless of skill level or camera equipment. The focus is on helping you improve your wildlife photography skills such as: proper composition and exposure, when to use different camera focus modes, long lens and tripod techniques, lens selection, animal behavior as well as expanding your creativity. All this, while providing you the finest opportunities to photograph nature's most incredible subjects.
We currently feature the following Workshops & Tours (click on title or image for more information):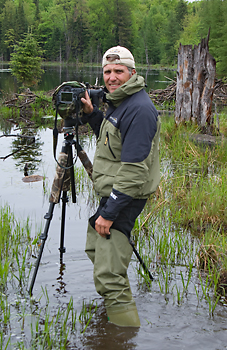 Photographer and Guide
Professional nature photographer, guide and instructor Michael Bertelsen has spent his entire life working in the wild. His work is sold internationally and his images are used in magazines, advertisements,billboards and album covers. He has been photographing nature since he was a teenager. Over the years Michael has been hired by some of the world's finest wildlife photographers and film crews. Including National Geographic and the BBC. Many of the images they captured were subsequently used in award winning work. Today Michael leads one of Canada's premier photography tours and workshops; guiding beginners as well as professional photographers from all over the world. Qualifications: Manitoba Licensed Guide, Transport Canada Certified Captain, Med A3, St Johns Ambulance First Aid & CPR.
Proud supporter of: David Suzuki Foundation Protecting our Wildlife and the Environment.