Khutzeymateen Grizzly Bear Photography Tour

The Khutzeymateen Grizzly Bear Sanctuary is the only Grizzly Bear Sanctuary in Canada. Famous for it's lush green grasses, salmon rivers and large grizzly bears. This is the perfect location for your next grizzly bear photography tour. You will be staying at a spacious floating lodge that is just a 1.5 hour scenic boat ride from Prince Rupert. This puts you on the water photographing British Columbia's wildlife in just a few of hours.
Grizzly with Salmon
play
The Khutzeymateen region is diverse in topography with towering mountain peaks that overlook protected estuaries with extensive wetlands and old growth forests. The sanctuary is home to roughly 60 grizzlies as well as wolves, black bears, bald eagles, harbour seals, otters, beavers and humpback whales. You will experience misty mornings while sitting in a covered boat with comfortable seats.
Quality not Quantity Two boats with only 5 photographers per boat. This fact alone makes it a premiere trip for the serious wildlife photographer.

Equipment Recommendations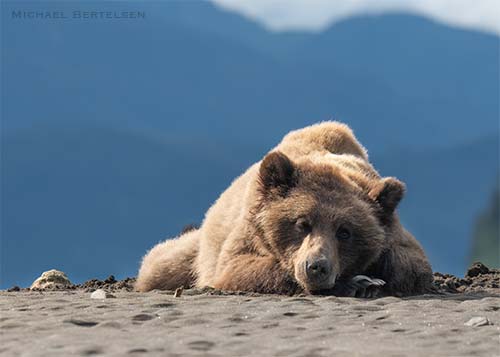 Your most used focal length will be in the range of 70 to 500mm. A wide angle lens for up close encounters as well as landscapes. If possible bring 2 camera bodies and a monopod.

Other Considerations
Low level of fitness is required.

Accommodations
A floating lodge sitting in a protected bay surrounded by British Columbia's gorgeous shorelines and mountains.

Price Includes:
6 nights accommodations.
Enclosed comfortable boat ride to and from Khutzeymateen floating lodge.
All meals and transportation while at the Khutzeymateen floating lodge.
Personalized instruction offered at all times.

Not included:
Accommodations, meals and transportation while in Prince Rupert.
All flights to and from Prince Rupert.

Itinerary
Day 0
Fly in to Prince Rupert from Vancouver British Columbia. Overnight stay in Prince Rupert.
Day 1
Scenic 1.5 hour boat ride to Khutzeymateen floating lodge. Once arriving you and your gear will be escorted to your rooms and a quick orientation with some photography tips and you will be on your way to your first photography location. Lunch and Dinner is planned.
Day 2,3,4,5 and 6
Early breakfast, then out on the boat. Grizzlies hunting salmon, black bears, landscapes, humpback whales, wolves, mink and eagles are also possibilities on this trip. Lunch in the middle of the day. Dinner together in the Evening and review the day.
Day 7
Breakfast and then the boat ride back to Prince Rupert. Dinner together in Prince Rupert and say are farewells.
Day 8
Fly out of Prince Rupert to Vancouver.


7-Day August 22 to August 28, 2024 Khutzeymateen Grizzly Bear Photo Tour
Cost $9,350.00 + $100.00 sanctuary fee + 5% tax. cdn funds A non-refundable deposit of 50% is required to reserve your spot. Remaining amount due 90 days prior to departure date.
Sold Out.. But taking bookings for May 2025

Payment, Registration and Refund Policy

A non-refundable deposit is required to reserve your spot. Once the deposit is received your spot on the trip will be confirmed and you will receive an email along with a detailed itinerary. Balance in full is due 90 days before the tour start date. A reminder will be sent to you via email, but it is the sole responsibility of the participant to remember this due date. If the balance is not received in time, we will attempt to fill your spot from the waiting list. If the spot is filled, you will be credited the full amount.
Checks can be made payable to Wild Outdoors Limited and sent to Michael Bertelsen P.O Box 1012, Churchill, Manitoba, Canada, R0B0E0. Payment can be made through Paypal (add 3% surcharge) or e-transfer.
Travel Insurance
Whenever travelling with Wild Outdoors Photography travel insurance and health insurance is highly recommended.
Liability
Wild Outdoors Photography does not accept responsibility for any losses or additional expenses due to delay or changes in air or other services, sickness, weather, strike or other causes. The tour participants shall bear all such losses and expenses. Wild Outdoors Photography will take all reasonable steps to ensure that services provided are of high standard. Wild Outdoors Photography will not accept liability for physical injury, loss, damage or expense resulting from
circumstances beyond our control. By agreeing to participate in a Wild Outdoors Photography workshop, each participant agrees to release, indemnify and hold harmless Wild Outdoors Photography, its agents, employees, shareholders, directors, attorneys, and contractors as more completely set forth in the liability waiver that will be provided. The waiver must be signed and received by Wild Outdoors Photography prior to participation.
Contact Michael if you have further questions