Wild Birds of Costa Rica Photography Workshop
Experience Costa Rica bird photography at its very best. Tropical birds on mossy branches, hummingbirds in flight as well as colourful frogs. Enjoy this relaxed setting at three lodges hidden away in the rain and cloud forests.
This will be Michael's 10th season photographing rare and beautiful birds in Costa Rica. Some of the locations that have become popular photography destinations in Costa Rica is due to Michael's connection with the locals, and his internationally recognized images. This very detailed 8 day 8 night trip, was not put together overnight while surfing the web. Michael has spent a lot of time scouting and putting this adventure together. This will offer the serious wildlife photographer a very high quality shoot with over 100 species of birds, frogs and reptiles to photograph.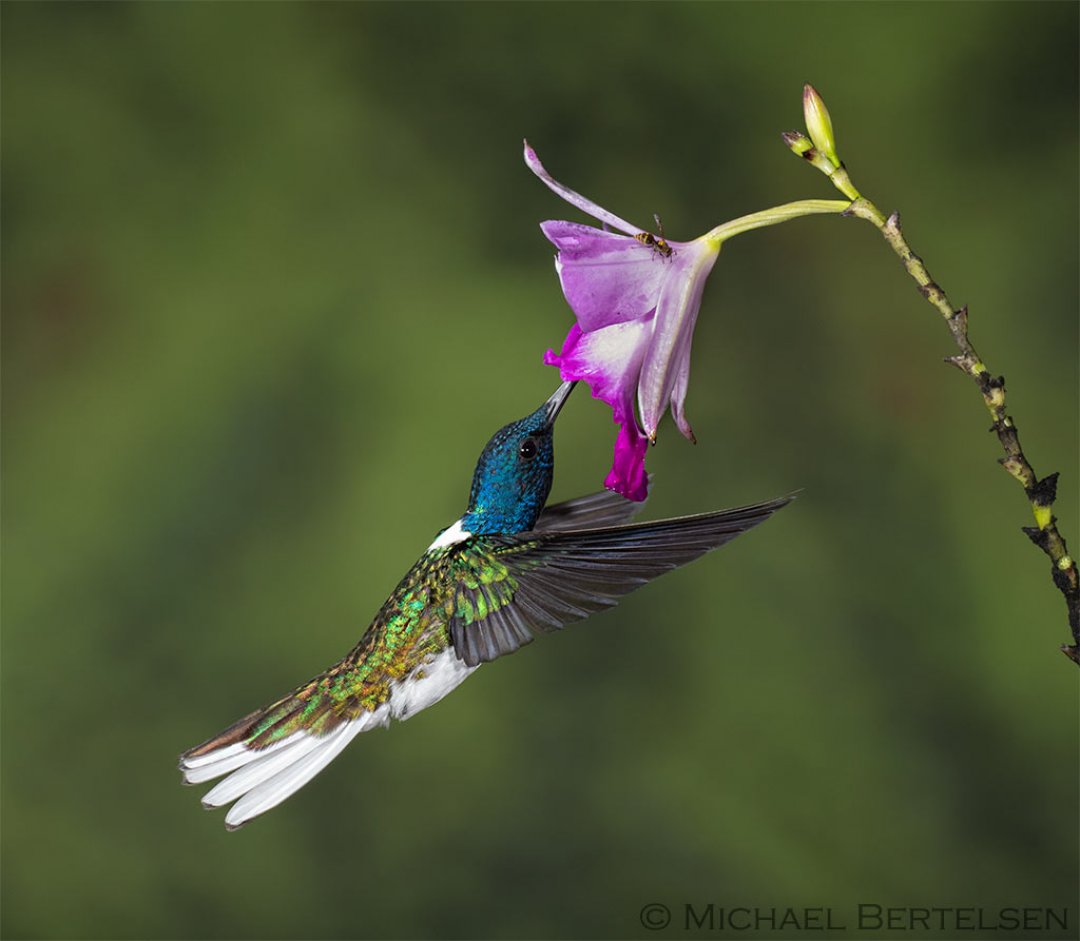 White-necked Jacabin
play
Quality not Quantity This workshop will only be offered to 8 photographers, which ensures that each guest has plenty of instruction time with Michael. This offers you better positions for quality backgrounds. For this reason there will not be 8 photographers on this trip.
Hummingbird Photography will be done with a multi-flash set up. Each photographer will be taught how to use the set up as well as how to make adjustments to remove shadows or to control exposure.

An Incredible Sight to See, and Photograph. Wild Keel-billed and Chestnut-mandibled Toucans, Collared Aracari, Emerald Toucanets and several species of brightly colored Parrots and Parakeets fly around you landing in trees and beautiful perches, sometimes in groups of 8 or 10 at a time.
Day 1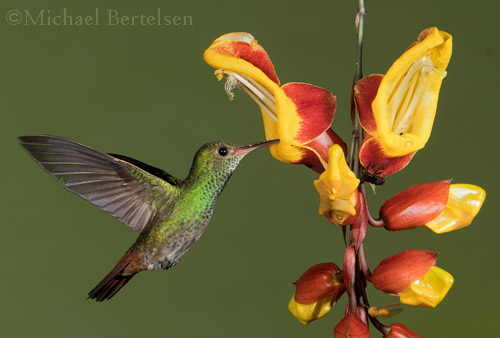 Arrive in San Jose at Juan Santamaría International Airport in Costa Rica. No need to wait or wonder what shuttle to take. Grab one of the dozen reliable red taxis waiting right at the front exit. Within seconds you will be on your way to the beautiful Hotel Bougainvillea. Taxis at the airport are dependable and accept US funds, trip costs about $35.00 USD . When you arrive,there will be a lovely hotel room waiting for you. Take the afternoon to photograph the beautiful orchids, birds and other tropical flowers in the hotel's huge 8 acre tropical garden. The Hotel has free wireless Internet throughout the grounds and in the rooms. That evening we will meet for dinner. Afterwards Michael has reserved conference room where he will cover important topics such as the correct way to use fill flash, depth of field and required shutter speeds..
Day 2
Shoot in the garden in the morning then meet for a delicious breakfast buffet, and after loading the vehicle we begin our journey. We will head to the Central Volcanic Mountain Range in which you will find both cloud and rain forest vegetation. When arriving at the lodge we will unpack and head to the dining area for lunch. After lunch we will be photographing over 30 different species of birds and humming birds.
Day 3
Early morning shoot, breakfast at the lodge. After breakfast, macro photography for the red-eyed tree frogs, glass frogs on beautiful setups. In the evening more bird photography, then at night I have hired a guide for a private tour in the jungle. Here we photograph everything from the red-eyed tree frog, poison dart frog to the giant smoky jungle frog in their natural habitat.
Day 4
Spend the morning photographing birds from our breakfast table. Tough life! Then we will be on the road again heading to our next lodge located in the wildlife-rich lowlands of Costa Rica. When we arrive, a quick walk around the property will offer dozens of photo opportunities for wild toucans, brown hooded parrots, orange-chinned parakeets, Montezuma Oropendula , Collared Aracari, just to name a few.
Day 5 & 6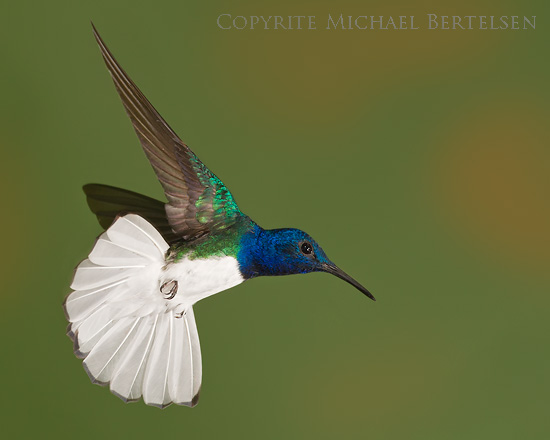 Mornings will be spent photographing the huge selection of bird species. After breakfast a short drive offers you some fantastic hummingbird and other tropical bird opportunities. An amazing shoot you will not soon forget.
Day 7
Morning is spent photographing birds, then I have arranged a boat trip on a local river. There you have opportunities at several species of king fishers, wading birds, monkeys, green & scarlet macaws as well as crocodiles.

Day 8
Morning is spent photographing birds, return to Hotel Bougainvillea. After freshening up, we will meet for a nice dinner and maybe a swim in their beautiful pool to celebrate a great week of Costa Rica's finest wildlife photography.
Day 9
Depart Bougainvillea. If you have time before your flight, maybe photograph some flowers or birds in the garden. Then grab a taxi for the airport.
Price Includes: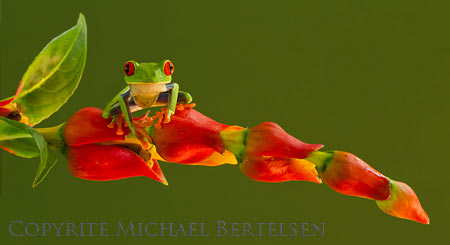 All breakfasts and lunches
All dinners except the 2 dinners at
Bougainvillea (breakfast only included)
Use and instruction of multi-flash setup.
Personalized instruction offered at all times.

Not included:
Alcoholic drinks, non-meal time drinks or snacks.
All flights & taxi ride to and from airport.

January 6 to January 14, 2023. 8 days & 8 nights Wild Birds of Costa Rica Workshop - Total Cost $5,000.00 U.S funds. We suggest you fly into San Jose - Juan Santamaría International Airport in Costa Rica on Jan 7, 2023. Depart on January 15th out of the same airport 1 opening available.
Deposit $1500.00 usd
Balance $3500.00 usd
Single Supplement: $595.00 additional
Non-photographers: $500.00 discount
Payment, Registration and Refund Policy
A non-refundable $1500.00 usd deposit is required to reserve your spot. Once the deposit is received your spot on the trip will be confirmed and an email along with a detailed itinerary. Balance in full is due 3 months before the tour start date. A reminder will be sent to you via email, but it is the sole responsibility of the participant to remember this due date. If the balance is not received in time, we will attempt to fill your spot from the waiting list. If the spot is filled, you will lose only the deposit. Fees are based upon double occupancy. Single rooms can be arranged for an additional cost if they are available. We do our best to pair participants up with a roommate, but if a roommate is not found, the single occupant will be charged for the single supplement. Checks can be made payable to Wild Outdoors Limited and sent to Michael Bertelsen P.O Box 1012, Churchill, Manitoba, Canada, R0B0E0. Payment can be made through Paypal (add 3% surcharge) or e-transfer.

Travel Insurance
Whenever travelling with Wild Outdoors Photography travel insurance and health insurance is highly recommended.
Liability
Wild Outdoors Photography does not accept responsibility for any losses or additional expenses due to delay or changes in air or other services, sickness, weather, strike or other causes. The tour participants shall bear all such losses and expenses. Wild Outdoors Photography will take all reasonable steps to ensure that services provided are of high standard. Wild Outdoors Photography will not accept liability for physical injury, loss, damage or expense resulting from
circumstances beyond our control. By agreeing to participate in a Wild Outdoors Photography workshop, each participant agrees to release, indemnify and hold harmless Wild Outdoors Photography, its agents, employees, shareholders, directors, attorneys, and contractors as more completely set forth in the liability waiver that will be provided. The waiver must be signed and received by Wild Outdoors Photography prior to participation.
Contact Michael if you have further questions or to check availability and to request a booking.

Testimonials
Michael, I wanted to thank you again for putting together such a fabulous trip to Costa Rica. The logistics were absolutely seamless. Your pre-planning was most evident and appreciated as were your personal attention to detail and overall enthusiasm. The accommodations were very comfortable and perfect for the trip. Limiting the number of participants allowed each of us the opportunity to enjoy maximum use of the facilities and access to your expertise and knowledge. I got some absolutely incredible photographs but more important, thanks to your patience and tutoring, I learned how to really use my camera and to understand bird photography. Everyone returned a better photographer regardless. I also think we experienced a real view of Costa Rica. I would recommend the trip without reservation to all levels of photographers and birding enthusiasts. Best personal regards, Gary S

Hi Michael, I just want to thank you for the super time I had on our recent Wild Birds of Costa Rica photography trip. I never dreamed I would have the opportunity to photograph such an array of beautiful birds and unique animals. Thanks to your knowledge of the geographic locations, animal behavior and detailed photographic expertise, you made sure both inexperienced and experienced photographers got the shot. I'm sure it took a lot of organizing to put together such a great trip. I really enjoyed the eco-lodges you chose; the service staff, who were friendly and helpful; and, the food, which was very good. I met some really nice people, from diverse walks of life, who I hope to meet again sometime on another of your photographic adventures. Thanks again, Bob B
I've been on many photo tours over the years, and I have to say that Mike is a terrific guide and knows exactly what photographers are looking for. His trip to Costa Rica is perfectly designed, and he provides great help and guidance whenever you need it. My hard drive is now stuffed with trophy shots -- it will be hard to sort through them all! Thanks Mike for your hard work and enthusiasm -- I had a blast the whole time. Jon H