Yellowstone Winter Wildlife Photography Tour

Winter in Yellowstone is a magical time. Snow capped mountains and long ribbons of river valleys dotted with frosted cottonwood trees. Bison and elk break through the deep snow with heads and hooves to get to last summer's grasses. Bighorn sheep navigate vertical cliffs to reach more suitable feeding grounds. Mule deer, pronghorn, wolves, coyotes, fox, bob cats, golden and bald eagles all make their home in Yellowstone; and winter is the prime time to see them.Yellowstone is a magnet that draws me back each year, and each visit rewards me with beautiful pictures and wonderful memories.
6122 Bison on Ridge
play
Itinerary
Day 1 (January 25,2020)
Participants fly into Bozeman, Montana and take the shuttle to hotel.
Day 2
After breakfast, travel to North Yellowstone hotel.
After lunch spend the afternoon photographing wildlife.
Day 3,4,5 and 6
After breakfast we travel through Yellowstone to specific wildlife-rich locations.
Evening we return to hotel for a rest and download images.
Group meets for dinner and to discuss the day's shoot.
Bathroom breaks are available at all times.
Day 7
After breakfast we travel to our final location for the morning only.
Back to hotel for an early lunch and then leave for the Bozeman hotel.
Day 8
Fly out of Bozeman Montana.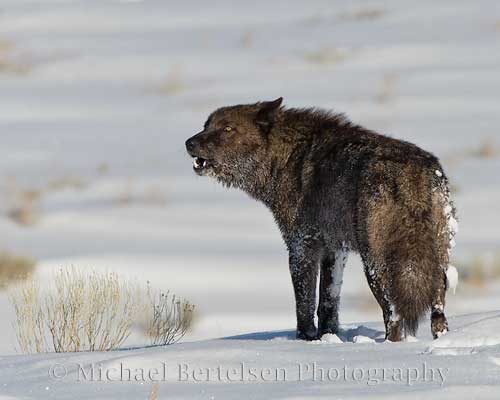 Trip includes:
All accommodations (double occupancy, private rooms available for an additional $460.00).
All transportation including shuttle to airport
Breakfast and picnic style lunch
5 full days of wildlife photography
Hot chocolate served in the field
Personalized instruction if needed.

Not included:
Dinners and non meal time snacks
Lunch at Old Faithful Lodge.

Equipment Recommendations
A 400, 500 or 600mm lens, wide angle lens for landscapes. Your most used focal distance will be in the range of 300 to 500mm. If possible bring 2 - 35mm digital camera bodies, sturdy tripod, 2 batteries for each camera body. Protection for camera and lens from the elements(storm jacket or something similar).

Clothing Recommendations
Temperatures range from 40F(+5C) down to 10F(-15C) during this time. Insulated boots, warm winter coat, insulated pants to wear over your inside pants, or long underwear with wind-pants. Warm mitts including thin gloves you can use camera buttons with. Warm hat, warm socks and sunglasses.

Other Considerations
Low to medium level of fitness is required. Short walks on groomed areas. Possible walking in snow at times. You must be able to carry your own camera gear and tripod.
We suggest you fly into Bozeman Montana on January 25,2020. There will be a shuttle to take you to your hotel.
Depart from Bozeman, Montana on February 1, 2020.

Deposit & Registration for Tours/Workshops
Total cost for trip is $3,600.00 USD. A non-refundable $1,500.00 USD deposit is required to reserve your spot with balance due 90 days prior to the trip. 4 openings available

Contact Michael if you have further questions or to request a booking.