Yellowstone Winter Wildlife Photography Tour

Winter in Yellowstone is a magical time, with snow capped mountains and long ribbons of river valleys dotted with frosted cottonwood trees. Bison and elk break through the deep snow with heads and hooves to get to last summer's grasses. Bighorn sheep navigate vertical cliffs to reach more suitable feeding grounds. Mule deer, pronghorn, wolves, coyotes, fox, bob cats, golden and bald eagles all make their home in Yellowstone; and winter is the prime time to see them.Yellowstone is a magnet that draws me back each year, and each visit rewards me with beautiful pictures and wonderful memories.
6122 Bison on Ridge
play
Itinerary

Day 1
(January 25,2020)
Participants fly into Bozeman, Montana and take the shuttle to hotel.
Day 2
After breakfast, travel to North Yellowstone Hotel.
After lunch spend the afternoon photographing wildlife.
Day 3,4,5 and 6
After an early breakfast we travel through Yellowstone to specific wildlife-rich locations.
Evening we return to hotel for a rest and download images.
Bathroom breaks are available at all times.
Group meets for dinner and to discuss the day's shoot.
Day 7
After breakfast we travel to our final location for the morning only.
Back to hotel for an early lunch and then leave for the Bozeman hotel. Last dinner together and say our good byes.
Day 8
Fly out of Bozeman Montana.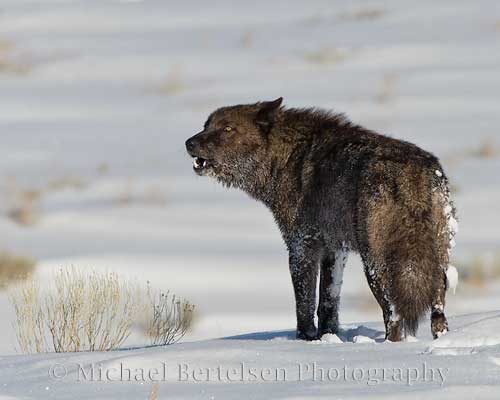 Trip includes:
All accommodations
All transportation may include shuttle to airport
Breakfast and picnic style lunch
5 full days of wildlife photography
Hot chocolate served in the field
Personalized instruction if needed.

Not included:
Dinners and non meal time snacks

Quality not Quantity
Small group of 6 photographers shooting on the ground, thus allowing: The ability to move around and choose a better background or angle. Overall feeling of the workshop is more intimate. Feel more in tune with the surroundings and its species. Only 3 photographers per vehicle

Equipment Recommendations
Your most used focal distance will be in the range of 300 to 600mm. A wide angle lens for landscapes. If possible bring 2 - 35mm digital camera bodies, sturdy tripod, 2 batteries for each camera body. Protection for camera and lens from the elements(storm jacket or something similar).

Clothing Recommendations
Temperatures range from 40F(+5C) down to 10F(-15C) during this time. Insulated boots, warm winter coat, insulated pants to wear over your inside pants, or long underwear with wind-pants. Warm mitts including thin gloves you can use camera buttons with. Warm hat, warm socks and sunglasses.

Other Considerations
Low to medium level of fitness is required. Very short walks in deep snow or groomed areas. You must be able to carry your own camera gear and tripod.
We suggest you fly into Bozeman Montana on January 25,2020. Depart from Bozeman, Montana on February 1, 2020.
Total cost for trip is $3,600.00 USD. No Openings Available.

Deposit $1,500.00 usd
Balance $2,100.00 usd
Single Supplement: $460.00 additional

Payment, Registration and Refund Policy
A non-refundable $1500.00 usd deposit is required to reserve your spot. Once the deposit is received your spot on the trip will be confirmed with an email. Expect a detailed itinerary including hotel information to be emailed as well. Balance in full is due 3 months before the tour start date. A reminder will be sent to you via email, but it is the sole responsibility of the participant to remember this due date. If the balance is not received in time, we will attempt to fill your spot from the waiting list. If the spot is filled, you will lose only the deposit.
Fees are based upon double occupancy. Single rooms can be arranged at an additional cost if they are available. We do our best to pair participants up with a roommate, but if a roommate cannot be found, the single occupant will be charged for a single supplement. Payments to be made to P&G Travel. 9421 Jane Street, Maple, ON L6A 4H8 TICO.ca #50015977 Jenny Cressman 905 303-0200 or 647-216-1791

Travel Insurance
Whenever traveling with Wild Outdoors Photography travel insurance and health insurance is highly recommended.
Liability
Wild Outdoors Photography does not accept responsibility for any losses or additional expenses due to delay or changes in air or other services, sickness, weather, strike or other causes. The tour participants shall bear all such losses and expenses. Wild Outdoors Photography will take all reasonable steps to ensure that services provided are of high standard. Wild Outdoors Photography will not accept liability for physical injury, loss, damage or expense resulting from
circumstances beyond our control. By agreeing to participate in a Wild Outdoors Photography workshop, each participant agrees to release, indemnify and hold harmless Wild Outdoors Photography, its agents, employees, shareholders, directors, attorneys, and contractors as more completely set forth in the liability waiver that will be provided. The waiver must be signed and received by Wild Outdoors Photography prior to participation.
Contact Michael if you have further questions or to check availability and to request a booking.