Algonquin Winter Wildlife Photography Workshop

Join wildlife photographer, guide and instructor Michael Bertelsen in Algonquin Park and surrounding areas. These beautiful locations are surrounded by snow covered pines and frozen lakes. Capture images of Algonquin's wildlife; possibilities include moose, whitetail deer, pine martin, red fox, wintering birds like the ruffed and spruce grouse, pine & evening grosbeaks, white & red-breasted nuthatches, blue & grey jays, boreal chickadee, red polls, pine siskin and several species of woodpeckers.
Snowy Whitetail
play
The 2 day workshop will focus on how to achieve attractive backgrounds using depth of field and focal length. We will also cover bird setups with feeders and perches to acquire striking images.
Small Group Experience
Workshops are limited to 4 people. This ensures that everyone's photographic needs will be addressed, giving the highest quality experience possible.
Equipment Recommendations
A digital SLR camera body matched with a lens that reaches to at least 400mm. Most frequently used focal length will be between 200 to 500mm. Bring a wide angle lens for possible landscapes. A sturdy tripod, Protection for camera and lens from the elements (storm jacket or plastic bag).

Clothing Recommendations
Temperatures range from -3C to -20C during this time. Insulated boots, warm winter coat, insulated pants or long underwear. Warm mitts, thin gloves you can use camera buttons with, warm hat and warm socks.

Other Considerations
Low level of fitness is required. Very short walks. You must be able to carry your own camera gear and tripod.

Where To Stay
We stay in Huntsville. More information will be provided as to what hotel to book once a deposit has been received.

Itinerary
Exact meeting time to be determined.
On location for the morning light.
Bathroom breaks available through out the day.
Lunch will be at one of the restaurants located near the park.

Price Includes:
2 Days photographing wildlife.
Personalized instruction offered at all times.
Hot chocolate served while in the field.

Not Included:
Accommodations & all meals.
Transportation

Scheduled 2 Day Winter Wildlife Photography Workshops $300.00 + 13% HST Per Day
Maximum 4 photographers
Available Dates

Algonquin Winter Wildlife

$600.00

January 20-21, 2021

2 spaces left
Algonquin Winter Wildlife

$600.00

January 23-24, 2021

Full
Algonquin Winter Wildlife

$600.00

January 27-28, 2021

3 spaces left
Algonquin Winter Wildlife

$600.00

January 30-31, 2021

1 spaces left
Algonquin Winter Wildlfe

$600.00

February 03-04, 2022

2 spaces left
Payment, Registration and Refund Policy
A non-refundable 50% + 13% deposit is required to reserve your spot. Once the deposit is received your spot on the trip will be confirmed with an email that includes a detailed itinerary with hotel information. Balance in full is due 3 months before the tour start date. A reminder will be sent to you via email, but it is the sole responsibility of the participant to remember this due date. If the balance is not received in time, we will attempt to fill your spot from the waiting list. If the spot is filled, you will lose only the deposit. Checks can be made payable to Wild Outdoors Limited and sent to Michael Bertelsen P.O Box 1012, Churchill, Manitoba, Canada, R0B0E0. Payments can also be made through Paypal (add 3% surcharge) or e-transfer.

Travel Insurance
Whenever traveling with Wild Outdoors Photography travel insurance and health insurance is highly recommended.

Liability
Wild Outdoors Photography does not accept responsibility for any losses or additional expenses due to delay or changes in air or other services, sickness, weather, strike or other causes. The tour participants shall bear all such losses and expenses. Wild Outdoors Photography will take all reasonable steps to ensure that services provided are of high standard. Wild Outdoors Photography will not accept liability for physical injury, loss, damage or expense resulting from
circumstances beyond our control. By agreeing to participate in a Wild Outdoors Photography workshop, each participant agrees to release, indemnify and hold harmless Wild Outdoors Photography, its agents, employees, shareholders, directors, attorneys, and contractors as more completely set forth in the liability waiver that will be provided. The waiver must be signed and received by Wild Outdoors Photography prior to participation.
Testimonials
Good morning Michael, Holly and I would both like to thank-you again for an amazing trip. You went above and beyond as always! We both got some amazing shots, and we both really appreciate all your insight and knowledge.
— Liz L.
Hi Michael, I just want to let you know how much I appreciate the outstanding Algonquin Park Winter Photo Tour of this last weekend. A small group of photographers with a friendly guide who knows the place like his back pocket is a fantastic recipe for success. I certainly look forward to another tour with you and your company. Sincerely, Pierre W

Hi Michael,
Just writing to thank you for an awesome workshop. You not only gave me a few game-changing photography tips and ideas to ponder,but also offered many essential and helpful hints to consider when shooting wildlife in particular. You take the time to answer any question, big or small. There was one particular event that sticks out in my mind. It was when I successfully captured that redpoll on the tree-top perch. You saw the image in my viewfinder, grabbed my shoulders and were genuinely as excited as me. It is heartwarming to see that after all the years you have been doing this and after seeing thousands upon thousands of redpolls, it has not gotten old for you! As you know, I have been on quite a few tours/workshops in the recent past, but have yet to meet anyone who truly cared that we all got "the shot" ...until yesterday! You are one of a kind. And I am not just saying all of this to butter you up so you will save me a spot on your moose and Costa Rica Tours. LOL I look forward to our next adventure together!!
Patti L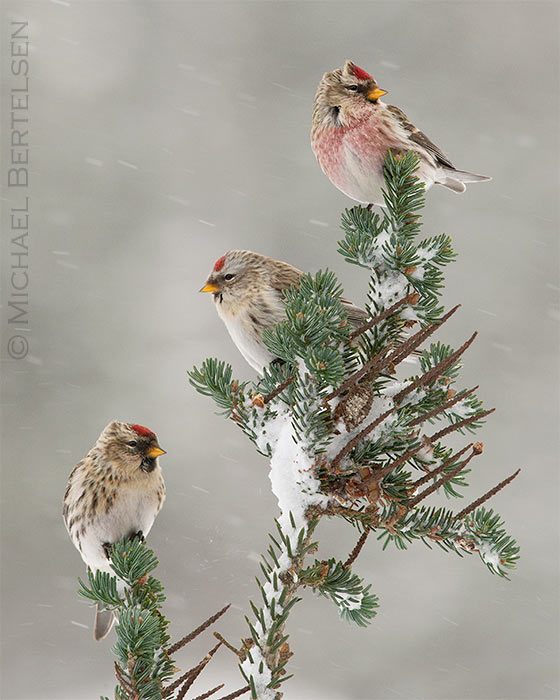 Book Your Photo Adventure Today



» Join our mailing list for great tips as well as new trips «